inspect, analyze and share
Buildings visualized & decoded in 3D
Spotscale produces high-resolution 3D models of your existing buildings so that you can inspect, analyze and work on them online with others from any location.
Spotscale Explained!
How does it work?
Spotscale processes images of buildings in the cloud and turn them into detailed 3D models.
See example 3D model

01
Capture images
Capture images of your property or let us help you find a drone pilot. We use imagery from different angles around a building to cover all visible places.

02
Process, Analyze & Deliver
Spotscale's cloud software calculates images into a 3D model, decodes features with machine learning, and extracts measurements from your model.

03
View, Share & Collaborate
Your 3D model is ready to use in the format you like and with the quality you need. Models work on desktop, mobile or any AR/VR device. Use our web tools to inspect, measure, or modify your building.
How do customers use the 3D buildings?
How the pricing works
Price 3D Model Creation
---
Size and complexity of building

Quality - Order resolution

Your image capture ability

Delivery requirements
Spotscale Platform Subscription
---
How many will be working as editors on the model?

What tools will be used? Basic: Inspect & Measure Premium: All tools - Inspect, Measure, Annotate, Quantify, Collaborate, Modify White label: Own Company branding and Logo exposure available on request.
Property 3D Model
Building Type: Multi Dwelling Unit (MDU)
Ground Area: 1 000 sqm (10 800 sqft)
3D Surface Area: 3 200 sqm (34 400 sqft)
Time from project start to delivery: 10 days (including capture)
Platform Subscription
Editors: 1
Tools: Inspect, Measure, Annotate, Quantify
Subscription: 12 months
Support: Basic Support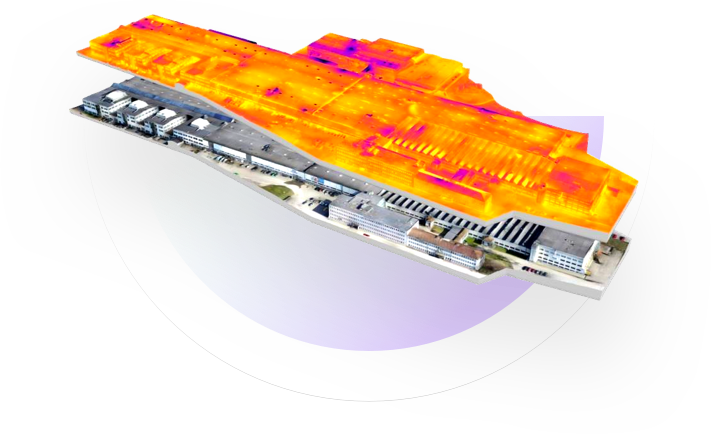 Property 3D Model
Model type: Thermal + Visual
Service: Full-service (including image capture)
Building Type: Low Industrial
Ground Area: 71 000 sqm (764 200 sqft)
3D Surface Area: 99 300 sqm (1 068 900 sqft)
Time from project start to delivery: 8 weeks (including capture)
Platform Subscription
Editors: 8
Tools: Inspect, Measure, Annotate, Thermal, Analyze
Subscription: 12 months
Support: Basic Support
Property 3D Model
Building Type: Industrial
Service: Full-service (including image capture)
Ground Area: 83 400 sqm (897 700 sqft)
3D Surface Area: 184 400 sqm (1 984 900 sqft)
Time from project start to delivery: 3 months (including capture)
Platform Subscription
Editors: 10
Tools: Inspect, Measure, Annotate, Quantify
Subscription: 12 months
Support: Basic Support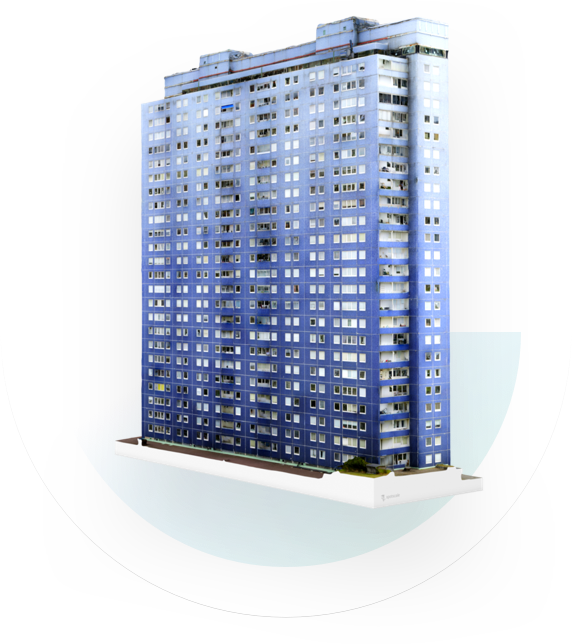 Property 3D Model
Building Type: Skyscraper
Service: Full-service (including image capture)
Ground Area: 2 800 sqm (30 100 sqft)
3D Surface Area: 16 400 sqm (176 500 sqft)
Time from project start to delivery: 4 weeks (including capture)
Platform Subscription
Editors: 2
Tools: Inspect, Measure, Annotate, Thermal, Analyze
Subscription: 12 months
Support: Basic Support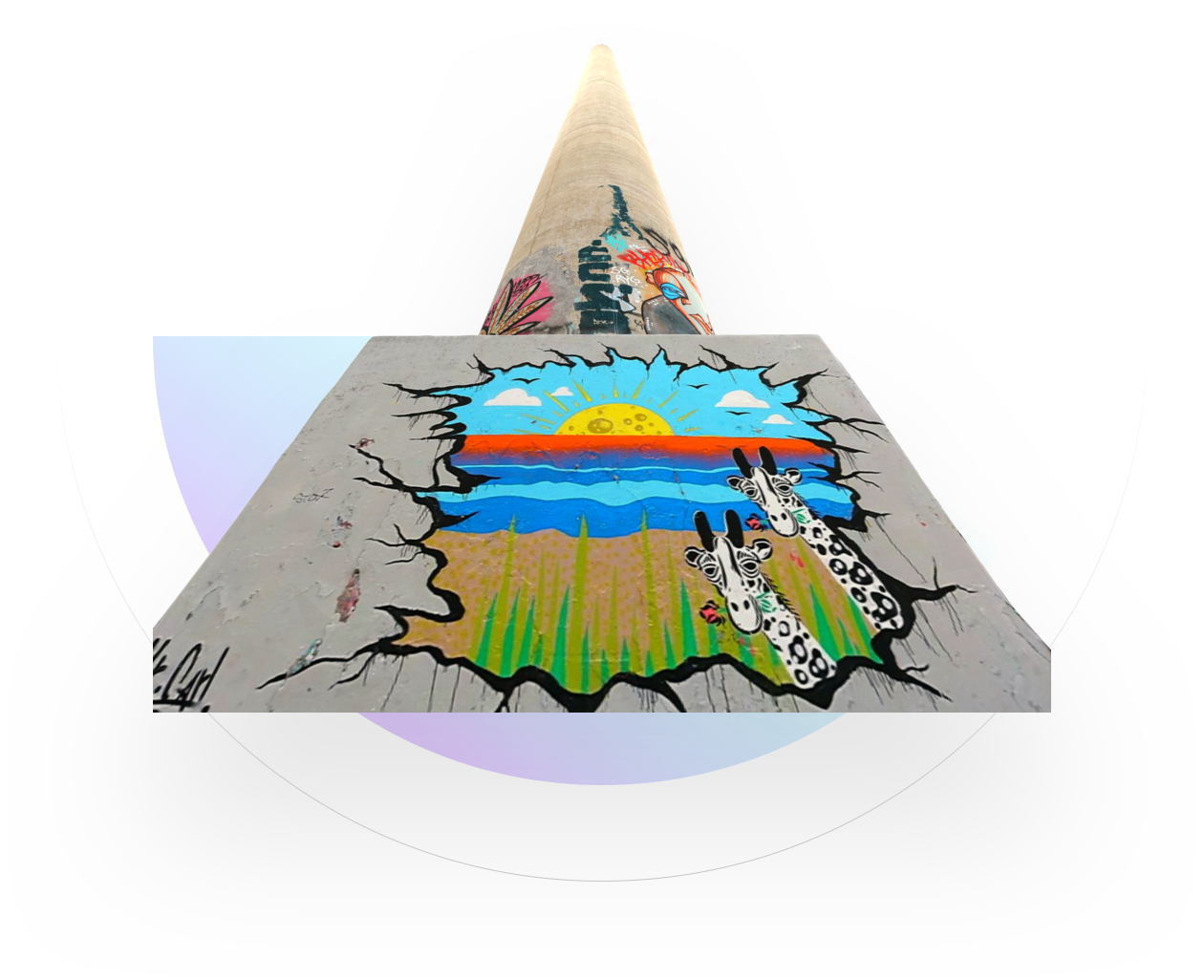 Property 3D Model
Building Type: Tower
Service: Full-service (including image capture)
Ground Area: 700 sqm (7 500 sqft)
3D Surface Area: 1 800 sqm (19 400 sqft)
Time from project start to delivery: 3 days
Platform Subscription
Editors: 1
Tools: Inspect, Measure, Annotate
Subscription: 12 months
Support: Basic Support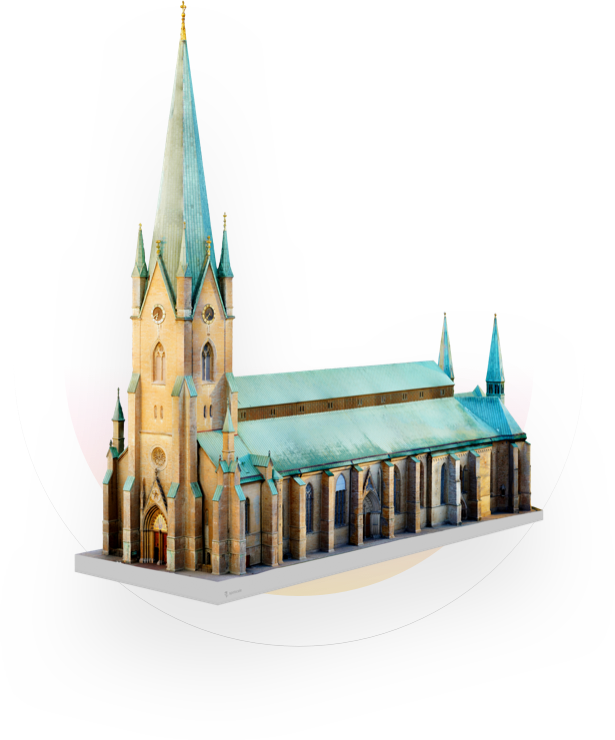 Property 3D Model
Building Type: Church
Service: Full-service (including image capture)
Ground Area: 4 200 sqm (45 200 sqft)
3D Surface Area: 17 000 sqm (183 000 sqft)
Time from project start to delivery: 3 weeks
Platform Subscription
Editors: 3
Tools: Inspect, Measure, Annotate, Analyze
Subscription: 12 months
Support: Basic Support